Community Living Ontario is led by a skilled and dedicated Board of Directors from across the province that work to ensure people who have an intellectual disability, and their families can advance inclusion in their lives and in the community.
2022/2023 Board of Directors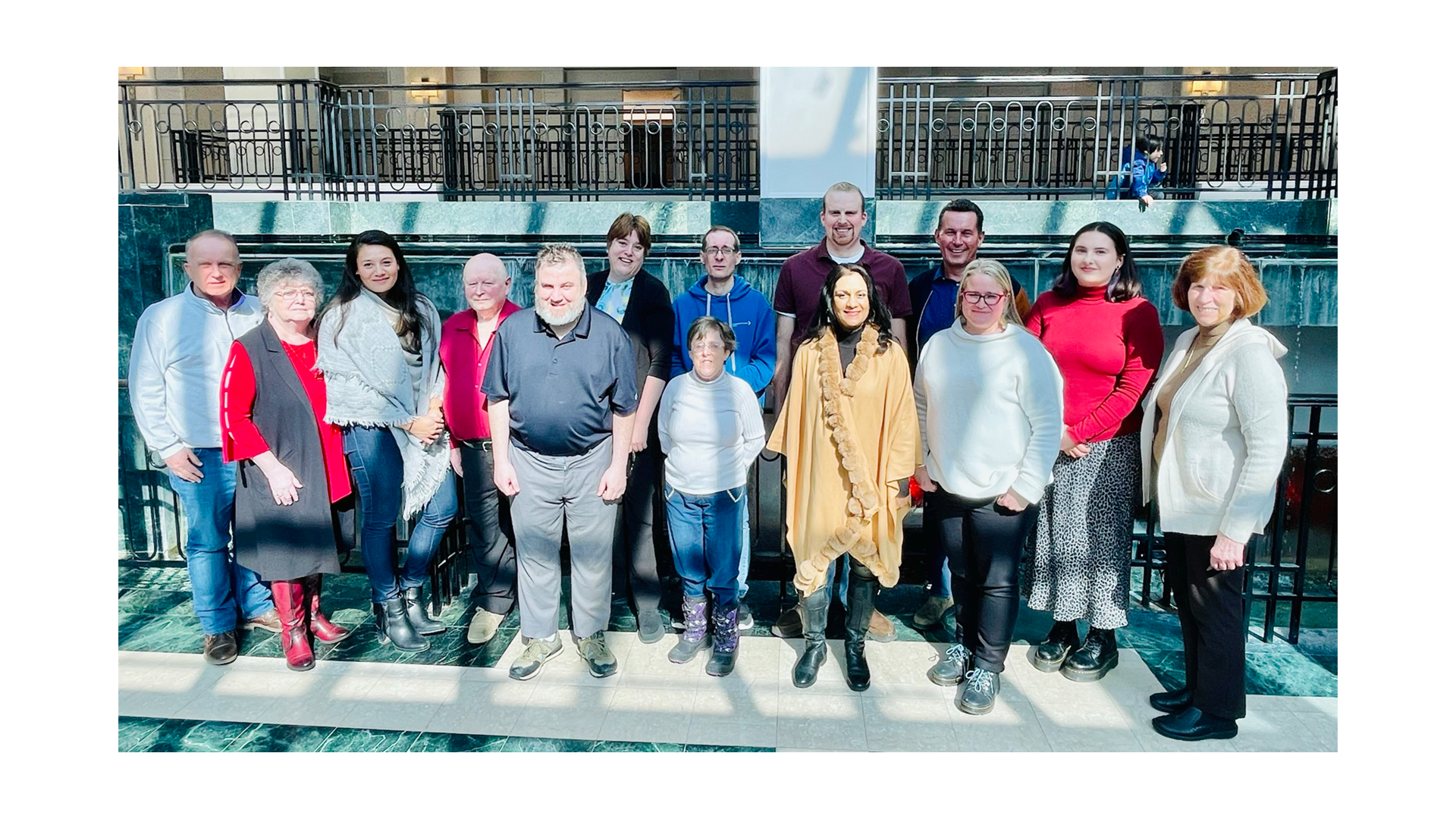 Michael Jacques- President
---
Michael is a young adult and lives and works in the Niagara region. He has an intellectually disability and is a board member of Community Living Welland Pelham and Community Living Ontario. He was also the Co-Chair of the A Million Possibilities: Solo Ocean Row 2017 campaign for Community Living Ontario.
READ MORE HERE
Jill Teeple- Past President
---
Jill is an investment advisor with BMO Nesbitt Burns in London, Ontario where she lives with her family and their dog, Maisy. Active in her community, Jill has spent time volunteering for and participating as a board member with several organizations in the city.
READ MORE HERE
Jennie Chanda- Vice President/Director at Large
---
Jennie has a background that includes nursing, teaching, and entrepreneurship. Her career started working as.an obstetrical nurse and then as an Evening & Night Supervisor at Norfolk General Hospital, in Simcoe.
READ MORE HERE
Keira Lum- Treasurer/Director-at-Large
---
As a healthcare business professional, Keira is focused on improving operations and quality initiatives within the healthcare industry. Her experience working at large and small healthcare centres across Toronto, as well as a private out-of-hospital practice has allowed her to foster skills in governance, human resources, accounting, marketing and project management while serving the needs of patients and patient safety.
READ MORE HERE
Chris Beesley- CEO/Secretary
---
Chris Beesley began his role as Chief Executive Officer and Board Secretary of Community Living Ontario in June of 2013. His commitment to the Community Living movement began in 1994 with the birth of his son, Mitchell, who was born with an intellectual disability.
READ MORE HERE
Yvonne Spicer
- Director at Large
---
Yvonne Spicer, a 44-year-old adult on the Autism Spectrum is a dedicated leader promoting partnerships and improving the lives of people with disabilities. With extensive community involvement, board memberships, and advocacy experience, Yvonne actively listens and encourages self-advocacy. She mentors others and works towards inclusive communities and access to necessary supports. Yvonne's expertise extends to the developmental services sector, emphasizing rights and social role valorization.
READ MORE HERE
Tim Berry
- Director at Large
---
Tim Berry has been Treasurer for six not-for-profit, charitable organizations over the past 15 years. He is an experienced Treasurer and CFO with extensive oversight experience in finance and IT functions. He has introduced committees, risk registers, and improved financial policies for multiple organizations. Tim actively contributes to governance, strategic planning, and legal matters as a board member.
READ MORE HERE
Nicole Canzoneri
- Director at Large
Nicole Canzoneri, a dedicated disability studies student, demonstrates leadership, academic excellence, and advocacy for inclusion. With extensive involvement in Community Living Ontario and Autism Service's Inc, she coordinates activities and supports youth with disabilities. Nicole's impact extends from running a Best Buddies chapter in high school to hosting educational projects on institutionalization.
---
READ MORE HERE
David Hill- Director at Large
---
David is from London, ON. He has been a member of the New Vision Advocates for the past seven years and also holds the co-chair position on the group's executive board. A strong advocate for people with developmental disabilities, David is very active in educating others about issues facing people with disabilities.
READ MORE HERE
Mark Anderson -

Director at Large
---
Mark Anderson, an advocate for people with disabilities, is an experienced speaker and presenter. He has held leadership positions in Community Living Ontario and actively participates in committees. Mark's dedication to advocacy is evident through his successful efforts in securing subsidized bus passes. He also has years of customer service experience.
READ MORE HERE
Stinder Lyall- Director at Large
---
A mother of two children and a dedicated wife, Stinder has over 25 years of experience advocating on behalf of her son Shamil who was born with physical and intellectual disabilities. Her career as an advocate began in earnest when her son Shamil was four years old.
READ MORE HERE
Doug Cooper- Director at Large
---
Doug was previously on the Community Living Ontario Board of Directors, including serving one year as Vice President and served on several committees including the Communication Strategies Committee and was Chair of the Conference Committee which included being the MC for the conference.
READ MORE HERE
Marcel St-Jean- Director at Large
---
Marcel was born and raised in Northern Ontario and lives in Ottawa. He retired from the Ontario Public service in 2011 and has continued to be active as an acting Executive Director, Social Worker and Volunteer/Advocate.
READ MORE HERE
Joseph Ralph Savage- Director at Large
---
Joseph is married and lives in Simcoe with his wife and 4 daughters. He was educated in Northern Ontario and became a southerner in 1975. He is retired and was the past President and Chief Negotiator for the Grand Erie Occasional Teacher Local, President of Ontario Public School Teachers Federation, Norfolk district. He also was a junior and senior elementary teacher at the Grand Erie District School Board.
READ MORE HERE
Theresa Somerton– Council appointed Director-at-Large
---
Theresa is from Belleville, Ontario and is the Council Appointed Board Member. My role involves being the Council voice on the Community Living Ontario Board of Directors. I was a Council member for 4 years before my role as a Board Member.
Donna Marcaccio- Family Engagement Steering Committee appointed Director-at-Large
---