Community Living Ontario is led by a skilled and dedicated Board of Directors from across the province that work to ensure people who have an intellectual disability, and their families can advance inclusion in their lives and in the community.
2021/2022 Board of Directors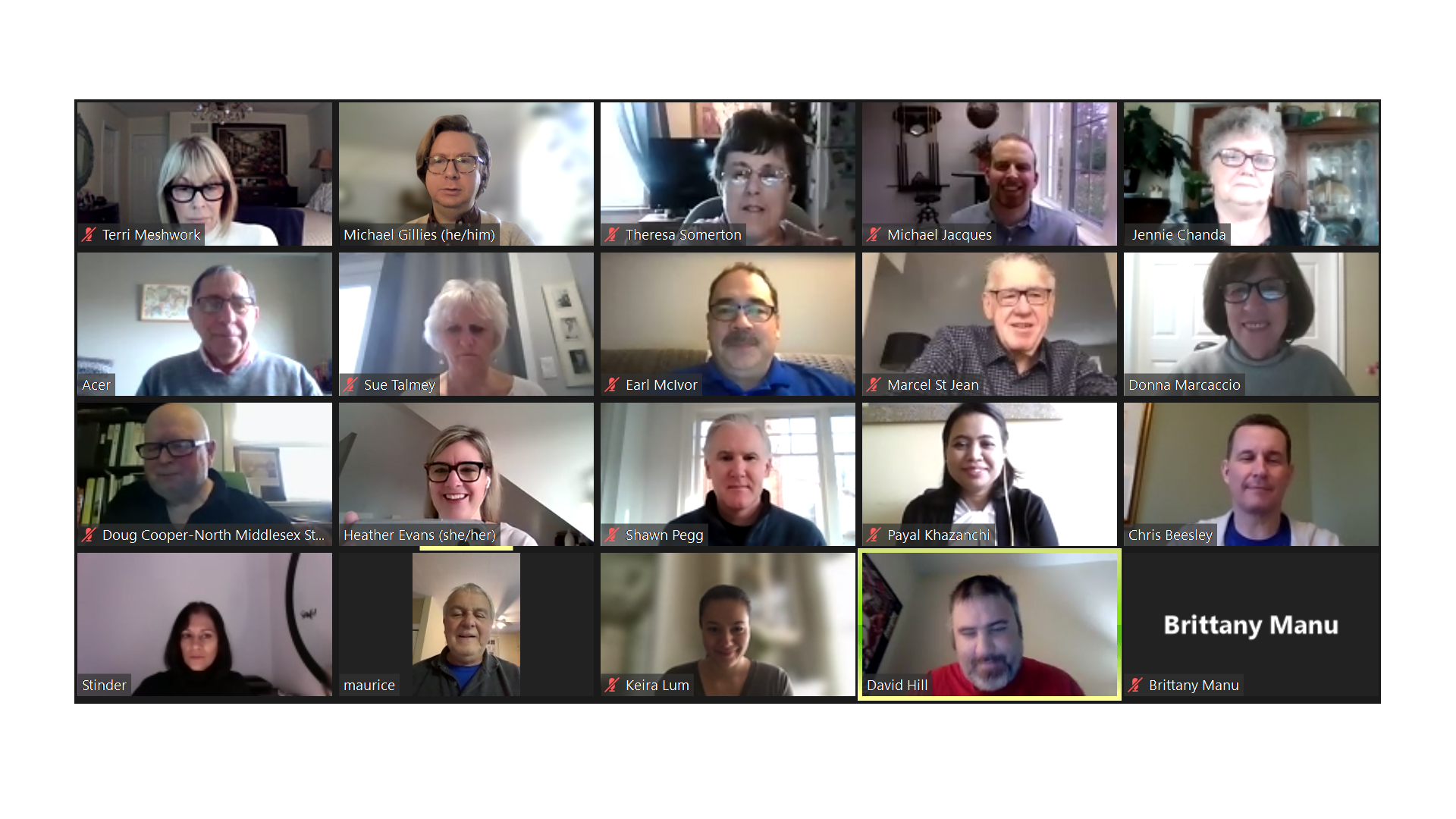 Michael Jacques- President
---
Michael is a young adult and lives and works in the Niagara region. He has an intellectually disability and is a board member of Community Living Welland Pelham and Community Living Ontario. He was also the Co-Chair of the A Million Possibilities: Solo Ocean Row 2017 campaign for Community Living Ontario.
READ MORE HERE
Jill Teeple- Past President
---
Jill is an investment advisor with BMO Nesbitt Burns in London, Ontario where she lives with her family and their dog, Maisy. Active in her community, Jill has spent time volunteering for and participating as a board member with several organizations in the city.
READ MORE HERE
Jennie Chanda- Vice President/Director at Large
---
Jennie has a background that includes nursing, teaching, and entrepreneurship. Her career started working as.an obstetrical nurse and then as an Evening & Night Supervisor at Norfolk General Hospital, in Simcoe.
READ MORE HERE
Keira Lum- Treasurer/Director-at-Large
---
As a healthcare business professional, Keira is focused on improving operations and quality initiatives within the healthcare industry. Her experience working at large and small healthcare centres across Toronto, as well as a private out-of-hospital practice has allowed her to foster skills in governance, human resources, accounting, marketing and project management while serving the needs of patients and patient safety.
READ MORE HERE
Chris Beesley- CEO/Secretary
---
Chris Beesley began his role as Chief Executive Officer and Board Secretary of Community Living Ontario in June of 2013. His commitment to the Community Living movement began in 1994 with the birth of his son, Mitchell, who was born with an intellectual disability.
READ MORE HERE
Brittany Manu- Director at Large
---
Brittany is an advocate for inclusion and diversity and member of Community Living Ontario with over 10 years of experience actively supporting and representing Community Living Ontario at various youth initiatives and partnership events/programs including Toronto Summer Institute, Family weekend events, Together We're Better Contest, Commence conferences, Reaction4inclusion roadshows and many more.
READ MORE HERE
Heather Campbell- Director at Large
---
Heather has been working within the service delivery sector for close to 20 years. Her oldest of three children has disabilities, which has given Heather the opportunity to learn more about advocacy, what a good life entails, and providing opportunities that promote full community inclusion.
READ MORE HERE
Leanne Wheatstone- Director at Large
---
A long-standing Board of Director with Kenora Association for Community Living, Leanne Wheatstone is a former member of the Special Education Advisory Committee with the Keewatin Patricia District School Board for over 10 years representing KACL. She is also a former executive member of Special Olympics – Kenora.
READ MORE HERE
David Hill- Director at Large
---
David is from London, ON. He has been a member of the New Vision Advocates for the past seven years and also holds the co-chair position on the group's executive board. A strong advocate for people with developmental disabilities, David is very active in educating others about issues facing people with disabilities.
READ MORE HERE
Maurice Voisin- PEDG-appointed Director at Large
---
Maurice has worked in social services for 35 years – over 30 years of that in developmental services. He has a BSW from King's College and an MSW from the University of Toronto with a health specialization.
READ MORE HERE
Stinder Lyall- Director at Large
---
A mother of two children and a dedicated wife, Stinder has over 25 years of experience advocating on behalf of her son Shamil who was born with physical and intellectual disabilities. Her career as an advocate began in earnest when her son Shamil was four years old.
READ MORE HERE
Doug Cooper- Director at Large
---
Doug was previously on the Community Living Ontario Board of Directors, including serving one year as Vice President and served on several committees including the Communication Strategies Committee and was Chair of the Conference Committee which included being the MC for the conference.
READ MORE HERE
Marcel St-Jean- Director at Large
---
Marcel was born and raised in Northern Ontario and lives in Ottawa. He retired from the Ontario Public service in 2011 and has continued to be active as an acting Executive Director, Social Worker and Volunteer/Advocate.
READ MORE HERE
Joseph Ralph Savage- Director at Large
---
Joseph is married and lives in Simcoe with his wife and 4 daughters. He was educated in Northern Ontario and became a southerner in 1975. He is retired and was the past President and Chief Negotiator for the Grand Erie Occasional Teacher Local, President of Ontario Public School Teachers Federation, Norfolk district. He also was a junior and senior elementary teacher at the Grand Erie District School Board.
READ MORE HERE
Theresa Somerton– Council Appointed Board Member
---
Theresa is from Belleville, Ontario and is the Council Appointed Board Member. My role involves being the Council voice on the Community Living Ontario Board of Directors. I was a Council member for 4 years before my role as a Board Member.
Donna Marcaccio- Family Engagement Steering Committee appointed Director-at-Large
---