Simon Lafleur is an explorer at heart. From collecting rocks, enjoying a variety of music, and DJing, to modelling and taking part in sports, he is always open to new experiences. It's this curiosity that led him to pursue a Student Links mentorship with Bill Wright, a woodworker from Nepean, Ontario.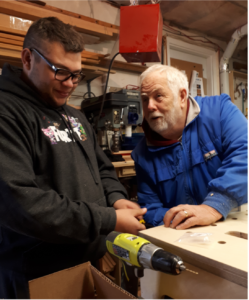 Woodworking has been one of Bill's passions for over 40 years. As a retired teacher, Bill relished sharing his knowledge with Simon. In turn, Simon eagerly awaited their weekly get-togethers at Bill's workshop.
Simon's first project was building a pickaxe from the video game Fortnite. Bill admits he was "thrown off a bit" because he didn't know anything about the object.
"I told him that when he came the next week, I needed a drawing showing size and shape. It was a great experience, as after that when he wanted to build something, he drew it out first so he had a plan," Bill explains.
For Simon, the challenge was learning quickly, and he did. After making the Fortnite keepsake, he moved on to make his own toolbox and workbench. To accomplish this, he progressed from using hand tools to working with power tools (including a bandsaw and lathe), wood such ass ash, walnut, and different sandpapers and glues.
Simon's projects also touched the lives of Bill's family. He helped handcraft over 160 pens for Bill's daughter's wedding as gifts for guests. Simon didn't stop there, suggesting the bride and groom receive colourful handcrafted pens just for them.
"He was proud of this, and I of him for it," says Bill, "but I think Simon was most proud of making and finishing a table for my wife's office."
Throughout their time together, Bill was "quite impressed with Simon's point of view and ability to visualize things."
"It blew me away!" Bill exclaims. "More than once, he looked at something I was doing and said, 'that won't work' and he was right. I think the confidence to say that was something new." With Simon's new skills, increased patience and dedication, Bill believes he "could become a competent furniture-maker."
Their relationship was strengthened by what Bill refers to as a shared "warped sense of humour."
"Simon often said the banter was as much fun as the learning," Bill chuckles.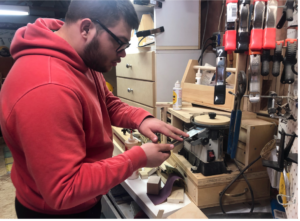 Simon recounts two of their ongoing jokes, which were also lessons in safety around machinery. At the beginning of each get- together, they would remind each other, "Ten fingers in, ten fingers out," and Bill would jest, "Did you lose any fingers? I don't want to make hot dogs."
Bill was also a kind of "father to look up to," who taught Simon "a lot of patience" and problem-solving skills. Simon sums up his experience by saying Bill was "100 per cent the best man to work with. He was very helpful."
According to Paula Poliquin, Simon's supportive grandmother, guardian, and advocate, "The matchup was perfect." Since Simon lived with Paula during the mentorship, she saw first-hand how he was "always excited and looked forward to leaving for weekly sessions."
"It was the only commitment at the time that he was genuinely excited about," Paula adds. "It provided Simon with regular socialization, time away from electronics, and was a confidence-builder. He learned and loved it because Bill is such a kind, patient, respectful teacher."
Dana LaBrash, the Student Links Coordinator for the Ottawa region, also watched the mentorship blossom. "Many students experience a culture that has extremely low and often negative expectations for them.
Simon and Bill's mentorship is a perfect example of how, in the right environment, students might not only meet typical expectations, but in fact exceed them. Bill even commented that Simon was laser- focused and more safety-conscious than some of the most experienced woodworkers he knows. This hopefully provides encouragement to other students, families, guardians and mentors about the untapped potential that can be uncovered.