On November 14th, the Ford government announced several changes that will affect people who have an intellectual disability in Ontario:
Changes to how work income is treated by ODSP
People on ODSP will be able to keep up to $1000 in employment earnings every month without having their ODSP amount reduced. Above $1000, they will keep twenty-five cents of every dollar earned.
Before this change, people were able to keep $200 per month without ODSP being reduced, and fifty cents of every dollar after that.
It is important to understand both the amount before clawbacks (growing from $200 to $1,000 per month) and the clawback rate (growing from $0.50 to $0.75 of every dollar about the threshold).
This change will have the most benefit for people who earn around $1,000 in a given month, as shown in the chart below. For others the change will make only a small difference.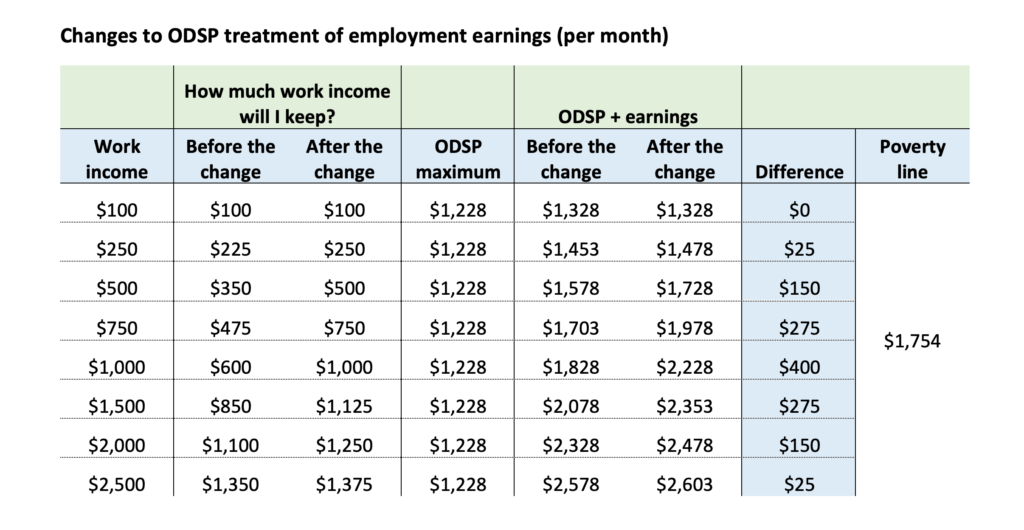 Another way to understand this change is to show how ODSP payments are reduced depending on a person's employment income. The below chart shows that as work income increases above $1,000 (blue line), ODSP benefits will decrease (grey line). Importantly, work income always results in an increase to total income (orange line).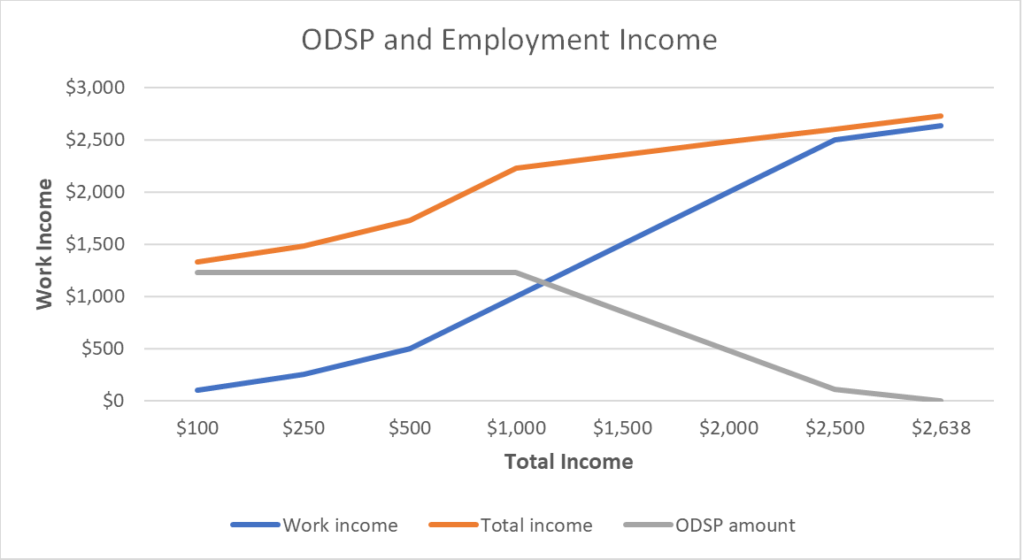 ** If you or someone you know is on ODSP and thinking about working more because of this change, talk to your ODSP worker first. It is always important to understand how a person's ODSP cash, housing, medical and other benefits will be affected by having more work income.
Other notable changes
On September 1st, the Ford Government increased Ontario Disability Support Program core allowance rates by 5%. This means that the basic monthly benefit for a single person on ODSP went from $1,169 to $1,228, an increase of about $58 per month.
Even with this small increase, ODSP recipients will still have incomes far below the poverty line. And with the exploding cost of living, they will be able to afford even less than they could last year.
The increase to ODSP only applies to core allowances. This means that it does not affect many aspects of the program, including the Special Diet Allowance (worth up to $250 per month), the pregnancy/breast feeding nutritional allowance ($40 per month), and the Personal Needs Allowance ($149 per month). Nor will these amounts increase with inflation in the coming years.
Amounts available through the Assistance for Children with Severe Disabilities (ACSD) also increased by 5% in September 2022.
Beginning in July 2023, ODSP core allowances and ACSD amounts will be adjusted annually to account for inflation.
Guaranteed Annual Income System (GAINS) payments will be doubled for 12 months starting in January 2023, growing too $166 per month for singles and $332 per month for couples.