Photo by Louis Thomas
After a four year hiatus, Community Living Ontario (CLO) welcomed the return of our annual Day at the Legislature event on Wednesday, May 10th. This event presented an opportunity for CLO and our member organizations to meet with elected officials in the spirit of connection and collaboration.
We would first like to sincerely thank the Honourable Michael Parsa, Minister of Children, Community and Social Services, for hosting us at the Legislative Assembly of Ontario for a day full of engaging conversation and spirited celebration. We would also like to thank Community Living Toronto (CLTO) for collaborating with us to make this day possible. Lastly, we would like to thank everyone who showed up to support this incredible event — from self-advocates, EDs, and direct support workers, to MPPs and Queen's Park staff.
Here are some of the highlights from our Day at the Legislature:
There was a strong contingent of MPPs representing all parties at the reception, including Minister Parsa, Monique Taylor and Marit Stiles (NDP), John Fraser (Liberal leader), and Mike Schreiner (Green leader).
The Minister met with representatives from CLO and CLTO.
The Council of CLO also met with the Minister to share their concerns. During the meeting, eight Council members presented their perspectives on three priority topics: poverty, housing, and aging in place. They received positive feedback from the Minister and two of his team members, Logan Kanapathy and Nolan Quinn. The Minister welcomed the perspectives of Council members and shared his belief that "no one should be left behind", while pledging to listen to any further concerns. This empowered the Council members to request a future meeting with him to discuss the ongoing poverty and housing crises in more detail. Council members are looking forward to building a strong working relationship with Minister Parsa and his team.
CLO and many of its member organizations were recognized and honoured by MPPs in the Legislature.
Many CLO members and self-advocates had one-on-one meetings with their respective MPPs throughout the day.
Our evening reception attracted 120+ attendees, and was the perfect way to cap off a busy day. It provided a more casual and relaxed setting for further interactions between MPPs, member organization representatives, Council members, and allies.
Self-advocates were proudly front-and-centre, including speeches at the reception by Michael Jacques, President of CLO's Board of Directors, and Nicole Flynn, President of the Council of CLO.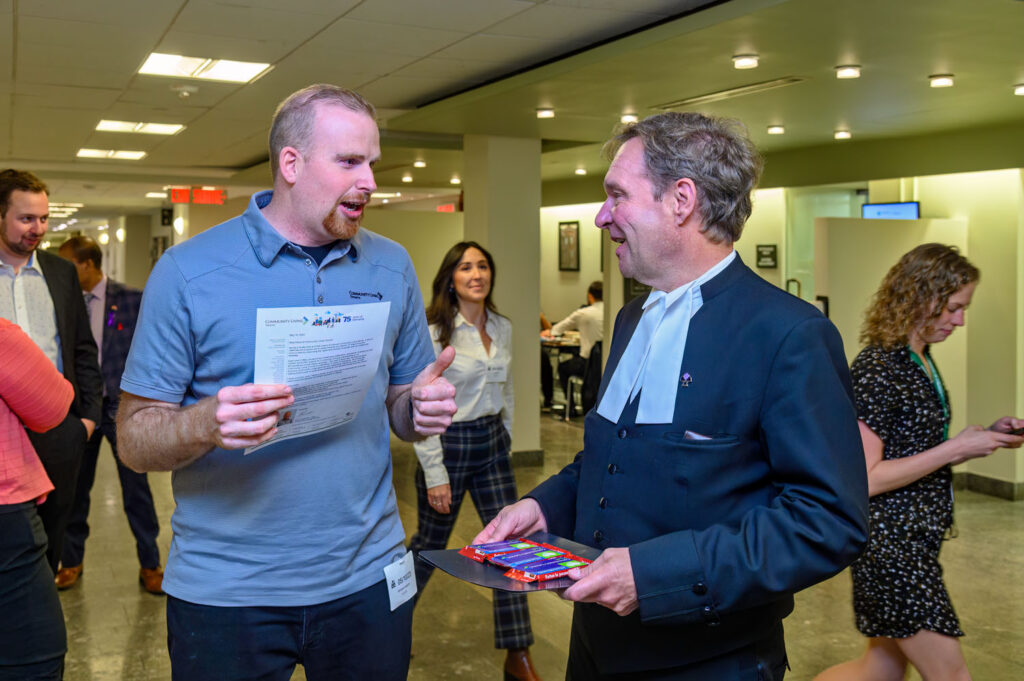 Our Day at the Legislature represented a big step in the right direction when it comes to strengthening our government relations and continuing to push for an Ontario where everyone belongs, is valued, and has the freedom to live the life they choose. We look forward to continuing the relationships and conversations that were cultivated on this day, and can't wait to be back next year!