Shania Brown is an artist based out of Kingston, Ontario, whose passion for art shines through in all her unique creations.
Looking to expand her artistic skills, Shania spoke to Student Links about finding a mentor who might teach her more about textiles. Shania was introduced to Annette Willis, a local quilter and the owner of chasing lightning bugs studio in Kingston, Ontario. Annette is highly regarded within the quilting community for her one-of-a-kind quilts and for her warm and welcoming studio that often leaves visitors inspired to pursue their own creative projects.
"It was kind of overwhelming," Shania says of her first meeting with Annette. "I was kind of scared and nervous."
Annette wasn't sure what to expect either. She thought she would have to start with the fundamentals, but Shania had already picked up basic sewing skills through a previous mentorship.
"I thought I'd have to be more hands-on with her, but she jumped right in," says Annette.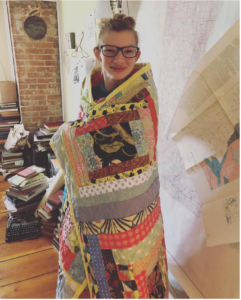 Their weekly meetings evolved from "diving into a mountain of fabric" and choosing what Shania wanted, to using the iron and quilting machine to create a double bed-sized quilt.
Annette connected Shania with a global network of quilters through her business's social media pages. As she posted updates about Shania's progress, Annette says her followers "went on a journey with us." One Utah-based quilter learned of Shania's love of purple and sent her a package bursting with pieces of fabric in various shades of that colour. Shania was thrilled. A Facebook clip shows her beaming as she unfolds a lap full of material.
As the mentorship progressed, the trust in their relationship grew. Annette commented that "the reserved side of Shania fell away" as they shared their stories with each other and bonded over a mutual love of country music and affection for Annette's dog, Maybelline. "It was a joy to be with her in the moment. Shania is a lovely girl. She oozes joy."
It wasn't long before Shania was bringing home a beautifully crafted quilt. Her use of colour and attention to detail resulted in a high-quality piece capable of brightening any room. Photos of Shania with her quilt posted to Annette's Facebook page quickly generated numerous compliments.
Practical quilting skills weren't the only thing Shania picked up from the mentorship. Annette says her goal was to build up Shania's belief that she can do anything and encourage her to be proud of all her accomplishments.
"And have fun!" she adds, "Nothing is a mistake if you are having fun."
During their time together, Shania also learned to speak up for herself and establish creative direction for her project. With this atmosphere of mutual acceptance and understanding, Shania says, "I could explain what I needed."
Shania's mom, Sue Little, also saw changes in her daughter. "I saw a real growth in her confidence because she was out of her comfort zone," she says.
But there was more than that. Sue observes that "Student Links teaches more than a particular skill. It teaches responsibility. For Shania, it taught her that it was important to be there and get there on time."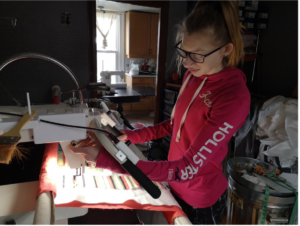 On her weekly meetup days with Annette, Shania remembered to bring her sewing machine so that the Student Links coordinator could pick her up from school and drive her to Annette's studio.
"Shania loved every opportunity Student Links provided," Sue adds. "No matter what their interest, they [Student Links] find someone."
Sue also appreciates how students are "given opportunities they might not get otherwise," noting that she has two other children who have taken part in the program.
While Shania and Annette's mentorship was unfortunately curtailed due to the pandemic, Shania has taken the skills she's learned from her previous mentorships to become a mentor herself, teaching crafts virtually through the Boys and Girls Club.
"She loves it. She's committed to it," her mom says.
And for Annette Willis? She thinks of Shania often, and "hopes good stuff is happening for her."
According to former coordinator Andrea Whyte, Shania's future will be bright because "she's open to so much. Her willingness to try new things is the key to her success."